Posted by Jacqueline on Feb 8th, 2020 in Astrology Watch, Mercury Retrograde | 0 comments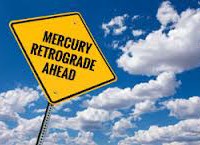 First Mercury Retrograde – February 17 through March 10, 2020 The first of three Mercury Retrogrades occurs on February 17, 2020 in the astrological sign of Aquarius, the Water Bearer. Even though it is in this sign for three days before changing to Pisces, there are pre-retrograde energy that precedes each Mercury Retrograde period that can also be affected by it. Aquarius rules the kinship of Man, and in a retrograde time, this Air sign can put relationships and friendships at risk. There could be the possibility of family squabbles, misunderstandings, and communication breakdowns. This will be short as the astrological sign changes as the Sun moves into Piscean territory less than two days later. On Feb. 19th, the astrological signs will change and the end of this retrograde cycle will be under the planetary influence of the planet Neptune, ruling planet of Pisces, the fish. This planet represents the concept of being One with all Beings. Neptune's influences accent the character traits of compassion, imagination, and idealism that Pisces possesses. Negative aspects of Neptune is that those ruled my this planet can be easily influenced by media and fantasy situations, and the self-undoing effects of drugs. When Mercury is in the astrological sign of Pisces, the energy is considered to be already as if in retrograde. This is called being in its own determent. When you consider that Pisces – the dreamy, ethereal, untouchable daydreamer, is being challenged by analytical and communicative Mercury, then you have a stand-off between fact and fantasy. Mercury, an Air element planet, represents the mind and intellect and Pisces, a Water element planet, creates F-O-G, and that might be what you feel when attempting to conduct business or relationship connections during this time – you are in a FOG over what is really going on or what is being revealed to you. Do not entertain using products that can cause you to not discern fact from fantasy. This is a time that you need clear and explicit information and instructions in order to proceed forward with clarity in making decisions and plans. Do not allow others to send you over the edge with the "what if's" and other imaginations and flights of fantasy. If it looks like a duck… The next Mercury Retrograde will occur June 18 – July 12, 2020....
Posted by Jacqueline on Jul 1st, 2013 in Astrology Watch | 0 comments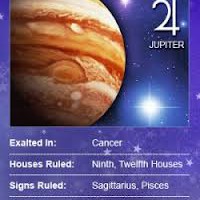 Jupiter in Cancer June 26, 2013 to June 2014 * What does the planet Jupiter represent? * The planet Jupiter is astrologically considered the planet of expansion and increase. It is the planet associated with the astrological sign of Sagittarius, the Archer and Pisces the Fish. Jupiter's sigil or glyph is a stylized number four (shown above) and the color is purple. Jupiter visits one astrological sign a year as it takes 12 years to circle the astrological belt. Jupiter energy is masculine and is associated with the ninth (House of Philosophy) and twelfth (House of the Subconscious) houses. Traditionally labeled "The Greater Fortune", Jupiter will give you a sense of a Higher Purpose. Depending on where it lies in your horoscope, it will set in place your ideals and happiness factors and will foretell whether your life's course will be smooth freeways or rocky roads. Jupiter is kind and benevolent, but does not take too kindly to laziness and sloth, so grow and flourish in a positive manner by keeping busy on projects utilizing a forward motion to accomplish goals. Looking as to where Jupiter is in your chart at the time of birth will aid you in using Jupiter energy to the max. * How can Jupiter assist You? * Jupiter most precious gift is to guide you to your highest capacity, fulfillment and happiness. Many paths that you may take to achieve this is through travel, learning, philosophy and life challenges. Where Jupiter is in your chart will indicate where you are in the sphere of your life (astrological house) and the method of motion (astrological sign) that you will take to make these leaps in your life. Jupiter will also determine certain character aspects such as stinginess or generosity. * What Jupiter in Cancer means for You? * When Jupiter is the astrological sign of Cancer, the expansion will be in all areas that Cancer rules: home, family, children, security and the breasts and stomach regions of the body. You may see children being born into the family or the purchases of larger houses. You might see your waistline expanding as well if you do not take care and maintain a healthy weight, as Jupiter in Cancer also rules entertaining at home with delicious food, which is Jupiter in Cancer at it's best and worst! You can best use the energy of Jupiter in Cancer by focusing on an in crease in what affects the family – security and prosperity. If you have a family-run or home-based business, burning purple candles for Jupiter and green candles for money together, along with a carefully worded prayer petition, will be most beneficial until June...