Posted by Jacqueline on Mar 17th, 2012 in Beginners Candle Spells | Comments Off

on Free Candle Spells | Setting Time Parameters in Candle Spell Work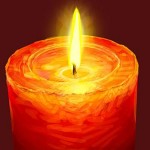 Probably the very hardest thing to consider when doing a candle spell is time. I say this because we live in a multi-task, do-it-now world and it is hard for some to consider allowing time to work things for your benefit. We seem to want it now and have it our way, like the Burger King song, but the Angels, Saints, and even the Heavens above don't seem to want to work on our terms and on our timeline. Consider a client who orders a green candle to be burned. One candle, burning 5-7 days, depending on various factors. During that week they may find the money stretches a bit farther, but once the candle is out, back to the old routine of "not enough to go around". I have had them write to me complaining about the supposed inefficiency of the candle. I first ask them, 'What did you expect the candle to do for you and what actually did happen?' They did make it through the week, but isn't the need for money a constant thing as we need to provide for ourselves and others we love? I also ask them if they researched and implemented the Universal Law of Manifesting Abundance.  In a nutshell, this basically "you have to give to get". So what did they do in good works to secure blessings for themselves? I then suggest having a candle burned for them each week until real progress occurs. I tell them that a candle light petition burn is a flame of prayer for favors requested and/or blessings received. It is truly up to the Just Judge to make the final call whether your petition is granted. Not everyone gets their wish or prayer granted and that is when real dissatisfaction occurs. Another thought is that if your petitions are granted and prosperity comes in through your front door, wouldn't the investment of a candle being burnt for them once a week minuscule to what they are receiving? Sometimes, clients expect one candle to do "it" for them forever and ever. It is that it needs to be understood that needs change and blessings come and are used, so ensuring constant flows of blessings of abundance is worth the price of a candle once a week. Now consider the person burning pink candles to bring about a lover or to have a lover return to them. There is much anticipation for success to happen and even greater disappointment when answers are not quickly answered. Sometimes the person setting the lights for the lost love is the one who gets the brunt of the blame instead of the petitioner going inside themselves to examine their actions or the actions of the wayward lover which would give greater inner knowledge of the outcome. Sometimes you have to allow Nature runs its' course, like a pet dog who jumps the fence and is roaming the neighborhood – if they know what is good for them, they will return. If they find something better (because of the petitioner's actions were not conducive to a loving atmosphere) then they will stay away. Yet many in this position of seeking a return to a time of a loving relationship will blame everyone else and exhaust much efforts with great vigor to get the 'lost' one back. There are two things to consider when doing return to me lover candle spells: A different approach in the relationship if the lover reappears and giving oneself an 'end time' or final date when no more energy and/or financial efforts will be placed on the one who had left. The reason for the latter in...