Posted by Jacqueline on May 13th, 2009 in Chase Away or Go Away Spells, Court Case Candle Spells | Comments Off

on Free Candle Spells | Readers Questions | Using Candle Spell for Court Case (Divorce) Proceedings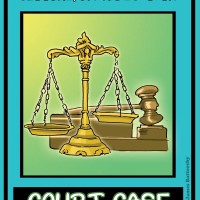 A reader asks for help. (This letter has been corrected for spelling errors) Hi Jacqueline, My soon to be ex-husband is making my life crap.   I've been separated for nearly 3 years and he still has a hold over my emotions!! We have a gorgeous little girl of 4 yrs. I left him due to his controlling behavior & drinking. I've burned umpteen bits of paper with hope of moving on to no avail. I've bought a black candle as last resort & I am going to get the separation agreement (copy) and write something on it in hope of him finding another love to move on and to stop him tormenting me. Please help xx Louise (last name removed to protect the family) * * * * * * * Louise, You are on the right track but a bit off – like a recipe that is lacking something. First, if he is not living with you, then he cannot bother you. You must clarify something because first you say he is your soon to be ex, meaning that things are already going through the courts, then the separation papers…so I am confused on the legal matters. The only reason why you would want to burn a black candle on the papers is to get the job DONE – so the question is: who is stalling the process? If he is controlling, and he is not living with you, how can he control you? Let me give you two scenarios and things that you can do for the situation: Situation Number One: (he is living with you while you are getting the divorce) – Get your own apartment. If this is not financially feasible, move in with family. You need to physically get away from him as much as possible in order for any candle spell to work. If this is not possible – force him to move. Get a few wasps nests, some burnt charcoal, red crushed peppers, dirt from a grave and doggie doo-doo (yes, I am serious), dry it out in the sun, making sure you spend a few minutes a day with a magnifying glass focused on the mixture and curse the debil our of it and sprinkle it in his shoes, the floor board of his car or truck, in his bed (the bed you DO NOT sleep in) and wait for him to leave.  If this is just too funky for you to do, get some Run, Devil, Run Condition Oil and sprinkle it in his shoes every day when he is not using them. Burn the same oil on a red and a black glass candle with his picture wedged in between them. Spend some time every day standing in front of the candle cursing and swearing at it (as if the candles were really him); telling him to hit the road, Jack. Use brown court case candles on top of a copy (not the original) of the Court documents. You can anoint this with a little Crown of Success Anointing Oil and sprinkle a little tobacco in around the top of the candle. Make sure you follow directions on proper cleaning and anointing of your candles. Situation Number Two: (you are living elsewhere but the divorce is not going anywhere) – Time to put on the 'brass brassiere" and get to work!  You must attend each and every Court proceeding and appear to want to 'make peace' with the other party – ESPECIALLY WHEN THERE IS A CHILD INVOLVED – each parent has to...