Posted by Jacqueline on Dec 21st, 2012 in Anointing, Condition or Spiritual Oils A to Z | Comments Off

on Free Candle Spells | Want Success? Use Crown of Success Anointing Oil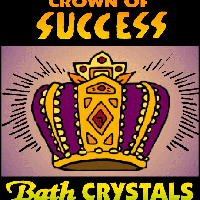 The most popular Hoodoo or Conjure Oil that is widely suggested when someone is applying for new employment, seeking a raise or a promotion at an existing job, getting good grades while studying or seeking favors from different sources, is an anointing oil known by many names such as Crowning Glory or Crown of Success. This oil, with a earthy scent, is utilized in candles, in the laundry as well as on the body when in pursuit of the activities and goals listed above. How to Use Crowning Glory or Crown of Success Anointing Oil This oil is allegedly highly effective when burning on a yellow Success candle with a petition written by you stating your intentions and placed under the candle. You should follow proper candle cleaning instructions (click here for article) and it is best to light on a New Moon, however, some people choose to light their candle right away. Other ways to use this oil is to mix a little in your shampoo or into your liquid body wash/soap, so that you anoint yourself each and every time you shower. You may also further enhance the Success qualities of this oil by applying a thin veil of oil on you from top to bottom before dressing for the day. This way, others will "notice" you when you interact with then, especially in interviews and meetings where you may be asking for employment or a raise. Lucky 13 Clover Spiritual Supply is your authorized retailer of Lucky Mojo Curio Co. products in the greater Sacramento, CA area. Please go to www.lucky13clover.com to order your Crown of Success Anointing Oil today...