Posted by Jacqueline on Jan 3rd, 2012 in Love Goddess Ochun/Oshun/Oxum, Orisha/Oricha/Orixa Candle Spells, Santeria/Lucumi/Lukumi, Various Saints Candle Spells | Comments Off

on Free Candle Spells | The Candle for La Caridad de Cobre – Patroness of Cuba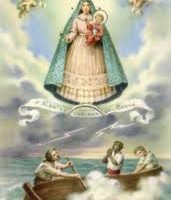 On December 30, 2011, as I was lighting candles for people, I got a "feeling" about the ruling Orisha/Oricha for the year 2012 was going to be Ochun/Oshun/Oxum, also known as La Caridad de Cobre. I wrote this prediction in my other blog, Tarot by Jacqueline Blog and I stated that I will have to buy a big statue of La Caridad de Cobre if I was right. Well, I was right, and next week I will be shopping for the largest statue of Ochun I can find. The reading comes from CONSEJO CUBANO DE SACERDOTES MAYORES DE IFA DE LA REPÚBLICA DE CUBA Letra Del Ano 2012 Signo: Ogbeche Profecía: Ire aiku lese alaleyo, eyebale. (Un bien de salud gracias al oricha regidor de cada persona, hay que darle sacrificio (sangre). Gobierna: Ochun Acompaña: Changó There are other things written in Spanish that I will have to translate with my daughters, but this year if at all possible, find yellow Caridad de Cobre Candles, also known as the Virgin of Charity, affectionately called "La Cachita", and light one each Friday throughout the year for blessings of love, romance, money and success from...