Posted by Jacqueline on Jun 4th, 2011 in Working with Spirits | Comments Off

on Free Candle Spells | Petitioning the Spirit of a Soldier or Policeman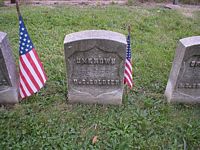 This hoodoo conjure work is to gather and work with the spirit of someone who was a hero – a soldier or policeman or fireman – for protection and to defend you when you are being persecuted, "done wrong" or wrongly accused of something. This is not to be taken lightly and you must be serious about doing this type of hoodoo work. 1. GATHER TOGETHER IN A BROWN PAPER BAG A TROWEL, THREE DIMES, PAPER TOWELING, BOTTLE OF TAP WATER, SMALL ZIP LOCK BAGGIE. PLACE IN TRUNK OF CAR. 2. WHEN READY TO GO TO CEMETERY, GO GET A SMALL BOTTLE OF WHISKY (AIRPLANE SIZE – SINGLE SERVING), A CIGAR, AND SOME FLOWERS (CARNATIONS PREFERRED). IF YOU FELL LIKE IT, MAYBE BRING A CANDY BAR OR SOME CHEWING GUM. 3. STAND JUST INSIDE THE GATES OF THE CEMETERY AND ASK FOR GUIDANCE TO A GRAVE THAT WILL ASSIST YOU. WAIT FOR A SIGN. IT MIGHT BE THE SOUND OR SIGHT OF A FLUTTERING FLAG TO LET YOU KNOW THERE IS A VET THERE OR A BIRD SINGING IN A TREE TO ALERT YOU TO GO LEFT OR RIGHT. KEEP MOVING THROUGH THE PLOTS UNTIL YOU FIND ONE GOOD FOR YOU. 4. CLEAN THE HEADSTONE AND PICK UP AND CLEAN ANY LEAVES OR TWIGS. OFFER FLOWERS. OPEN BOTTLE OF WHISKEY . DIG DOWN UNDER THE GRASS WHERE THE HEART WOULD BE, KEEPING SOME OF THE DIRT IN THE ZIP LOCK BAG, AND POUR HALF OF THE BOTTLE INTO THE HOLE. DROP IN DIMES. COVER WITH SOME OF THE RESERVED DIRT AND TOP WITH THE ORIGINAL GRASS PLUG. 5. TELL THEM YOUR PROBLEM AND HOW YOU WOULD LIKE THEM TO ASSIST YOU. LEAVE TOBACCO AND OPEN CONTAINER NEAR OR ON HEADSTONE. ARRANGE FLOWERS, LIGHT CANDLE IF YOU SO DESIRE. PLACE CANDY OR GUM NEAR OTHER ITEMS. 6. TELL YOUR PERSON THAT YOU WILL VISIT THEM ON AN ANNIVERSARY DATE OR WHAT EVER YOU BELIEVE WOULD BE GOOD FOR YOU. YOU MUST KEEP THIS DATE FOR THEM. IT IS YOUR WORD AND YOUR CONTRACT. 7. WHEN YOU HAVE RECEIVED A SIGN, (BREEZE, SOMETHING DROPPING FROM ABOVE, BIRD, CAR HONK, ETC.) IT IS TIME TO LEAVE AND WHEN YOU DO, DO NOT LOOK BACK. TAKE DIRT YOU COLLECTED AND PLACE IN A SMALL COVERED RECEPTACLE LIKE A BRASS INCENSE  BURNER OR VASE. KEEP A SMALL GLASS OF WATER NEAR IT AND FROM TIME TO TIME, LEAVE A SHOT GLASS OF WHISKY OR A CIGAR BALANCED ACROSS THE GLASS AS AN OFFERING. TALK TO THE CONTAINER AS IF IT IS YOUR SOLDIER OR POLICEMAN. TELL IT WHAT YOU WANT IT TO DO. REMEMBER TO GIVE IT A SMALL CUP OF BLACK COFFEE ONCE IN A WHILE AS A REMEMBRANCE OF THINGS ENJOYED IN THIS LIFE ...