Posted by Jacqueline on Jun 10th, 2010 in Beginners Candle Spells, Candle Colors Directory | Comments Off

on Free Candle Spells | Substituting Colors in Candle Burning Spells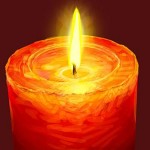 This blog post is regarding the differences in Specialty Candles, also known as "Condition" or "Blessed Candles". You have all seen these in your spiritual supply or occult shop; these are the ones with the brightly colored and sometimes highly artistic labels that gives the purchaser an immediate idea of the candle's intention. Some are rather plain, but the more artwork in the label, the more eye catching and appealing the candle. I know people who have purchased the candle for the artwork alone, never intending to actually use the candle! Imagine it is 4:30 pm on a Sunday and you have just gotten off the phone with a reading or consultation with your personal favorite spiritual intercessor, mentor or just Aunt Sally, the-one-who-know-all. She has given you a list of things to buy or gather together and instructions for you to do. You are going to the grocers, the craft store, the art store, liquor store, smoke shop – whatever – and you forget that the little old candle shop on the south side is closed on Sunday. However, TODAY is the day you need to begin your candle burning spell. What are you going to do? How do you substitute or change out one candle for the other in a pinch? Here is a list of basic candles and their colors that you can substitute for all matters of candle burning. While this is not intended to steer you away from buying those candles with the great graphics on them, it is a way to start your candles burning until you are able to get to Sister Jone's occult shop down on Broadway and 1st Avenue. Worse case scenario, you can get a bunch of votive or taper candles (whichever you like) at the Dollar Store. Here are candles you can use "in a pinch": Attraction Spell Candle – depending on intention, use green glass candle for money, red glass candle for fast love or money luck, white glass candle for general overall attraction purposes. Boss Fix Candle Spell – use plain white glass candle Court Case Candle Spell – use brown glass candle or since these are rare to find in the grocer's, use plain white glass candle. Crown of Success or Success Candle Spell – (sometimes known as Crown of Glory) use plain yellow glass candle Look at Me or Look Me Over Candle Spell – use pink glass spell for romance and affectionate feelings. Use red glass candle for pure sex appeal. Money Drawing Candle Spell – use green glass candle Prosperity Candle Spell – use green glass candle Wealthy Way Candle Spell – use green glass candle Revenge Candle Spell – use any black candle NOTE: The use of any written or image material on this site is prohibited by anyone and is not approved by the site owner. It is illegal to use another's work without express permission and is defined as plagerism....