Posted by Jacqueline on Feb 10th, 2015 in Psalms for Candles and Rituals, Using Psalms in Candle Work/Spellwork | Comments Off

on Free Candle Spells | Using Psalm 3 to Relieve Pain
PSALM 3 for Headache and Backache Pain
Hoodoo and Conjure is a folkloric belief; it is a methodology of spiritual practices using herbs, roots, oils and candle magic. It is not a religion; you cannot become baptized in it despite many baptized Christians using it daily for things that ail them. Depending on the locale of the practitioners, one may use the Protestant King James Bible or in areas that are heavily Catholic, prayers to the Angels and Saints were used. I have used the Psalm verses from the King James Bible, as the majority of the South was Protestant.
When you are experiencing a Backache or Headache:
Using Psalm 3 to relieve pain and to treat a person with a severe headache or a backache.
The Psalm would be recited over a Healing or Blessing Condition oil, and then massaged into the head and/or back while praying. This Psalm is also considered a traditional Psalm used in banishing Spirits of Oppression and Agony, who may have been sent to you by someone and might be responsible for the physical attack.
Items Needed:
7 Day Blue Candle in glass
Florida Water
Blessing or Healing Condition Oil
Two small towels
Drape a towel over the shoulders of the one to be anointed to cover their clothing from oil drips. You may have to drape lower for specific back areas. Your client can sit in a chair for a headache prayer service, or lay down for the back service. The second towel will be used for you to wipe your hands and any areas of their face or body not needing oil to be applied.
Prior to the service, clean your blue candle with Florida water, then let dry completely. Place nine drops of the condition oil in the candle and light.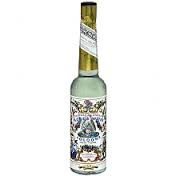 Before starting. put a few drops of Florida water in your hands and rub over the afflicted area. Move slowly to ease the tension of the person afflicted with pain. Work slowly, allowing time for their breathing to slow down and you can see/feel the tension leaving them.
Then, apply three drops of the oil to your hands and distribute to both palms.
As your anointed hands are rubbing the location of the pain, pray:
"Lord, how are they increased that trouble me! many are they that rise up against me. Many there be which say of my soul, There is no help for him in God. Selah. But thou, O LORD, art a shield for me; my glory, and the lifter up of mine head. I cried unto the LORD with my voice, and he heard me out of his holy hill. Selah. I laid me down and slept; I awaked; for the LORD sustained me. I will not be afraid of ten thousands of people, that have set themselves against me round about. Arise, O LORD; save me, O my God: for thou hast smitten all mine enemies upon the cheek bone; thou hast broken the teeth of the ungodly. Salvation belongeth unto the LORD: thy blessing is upon thy people. Selah." (Psalm 3)
You might want to follow the Psalm with a prayer of your own such as this one:
"Lord, the Great Creator, I seek your Divine power as the Great Physician in my hour of need. Heal me and relieve me from my  headache and backache, as only with Thee is counsel and healing can exist. Amen. Selah."
(Selah is a expression that means "Pause". It is found throughout the Bible. The writer places them in appropriate places where the immediate prior message is to be dwelled upon quietly in prayer, holding the meaning of the words in your mind and listening to the reverberate through your ears. there is no time limit to taking this break; it is when you feel the effectiveness has waned or the Spirit has moved through you.)
Continue to keep your hands on the area afflicted and stay completely quiet.
Allow the person as much time to sit/lie with eyes closed to take in the healing. When they are ready, they will indicate this and want to prepare to leave. Snuff out (do NOT blow out) candle and place nine more drops of oil in the top of the candle. Cover with foil or plastic wrap and give it to them to take home to burn on their family altar.