Posted by Jacqueline on Jul 17th, 2013 in Moon Phases and Candle Spells | 0 comments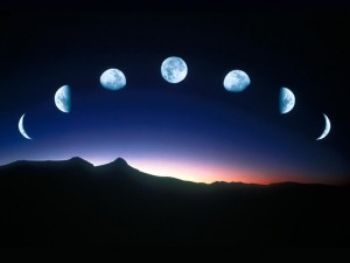 The Full Moon in Aquarius will occur at 1:17 E.S.T. on July 22, 2013. This Full Moon in the sign of Aquarius, the Water Bearer, will still be under the influence of the last Mercury Retrograde, which ended on July 20th. With most major planetary shifts and stations such as this Retrograde, the influence builds the week before and takes about a week after to fully 'clear out'. Given that Jupiter is in the sign of Cancer, you may feel that issues regarding the family and the home that were not addressed or not well received may still linger.
Uranus, the planet of Aquarius, turns Retrograde on the 17th, and it rules progressive ideals and groups dedicated to social reforms and radical ideas. You may see that groups of this nature will have a more difficult time in moving forward with their agendas, and thus, may result to covert tactics or violence to express themselves.The energy of the times is instability. You may want to burn blue candles anointed with Peaceful Home Oil to create a safe haven from the World.
The Full Moon time is considered to be beneficial for Reversible candle spells that you may perform. The term "Reversible" is loosely described and turning back or 'reversing' anything that you are going through at this time. This candle ritual also is to 'send back' any jealousy or envy from friends, neighbors or relatives.
The Full Moon is also a good time to burn "decrease" or decreasing candle spells. The idea regarding "decreasing" candle spells would be to ease a re-occurring health situation or, if doing enemy work, burning candles to decrease the victims energy, power or resources like money or luck.
The next New Moon will occur on August 6, 2013