Posted by Jacqueline on Dec 28th, 2012 in Moon Phases and Candle Spells | 0 comments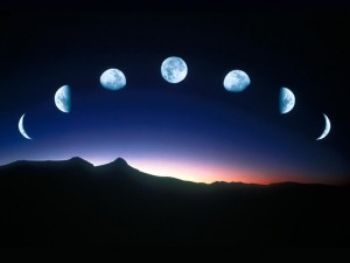 The Full Moon occurs on December 28, 2012 at 5:21 am E.S.T. in the astrological sign of Cancer, the crab. This Full Moon is the last Full Moon of 2012 and is called the Full Cold Moon or the Full Long Nights Moon or the Full Long Nights Moon.The term Long Night Moon is truly an appropriate name because the midwinter night is long because the Moon is above the horizon for a long time. The midwinter full Moon has a high trajectory across the sky because it is opposite a low Sun.
Full Moon time is consider time for doing work that "banishes" or "sends away". The Full Moon in Cancer would be an appropriate time to do candle work for spells in sending away money problems and bills that plague you and other candle spell work to send away troublesome people affecting the family. The zodiac sign of Cancer is considered a "cardinal" Water sign, meaning it is energetic and emotional. Cancer rules home and hearth, so a good housecleaning would do at this time of the year. In many cultures, a deep cleaning of the home, along with donating items that are no longer useful and tossing out old magazines and newspapers, can be the catalyst for bringing in new and fresh ideas and life experiences. Consider doing some spiritual deep cleaning with a mild solution of 1 capful of clear ammonia to 1 bucket of warm water and wipe down all areas where dust and hand prints can accumulate. Read more about banishing negativity by reading "Hoodoo Products and Uses | Ammonia and Epsom Salts – Dynamic Duo of Negativity Cleansing"
You might also want to consider doing an end of the year banishing negativity rituals similar as the one I am doing here (click for more information)
The next New Moon occurs on January 11, 2013.