Posted by Jacqueline on Dec 24th, 2012 in Moon Phases and Candle Spells | 0 comments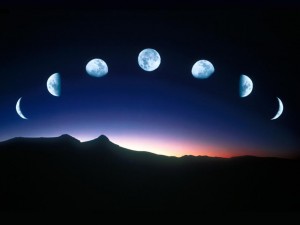 New and Full Moons in 2013
New Moon in Capricorn     Jan. 11                 Full Moon in Leo                  Jan. 26
New Moon in Aquarius       Feb. 10                Full Moon in Virgo                Feb. 25
New Moon in Pisces           Mar. 11                Full Moon in Libra                Mar. 27
New Moon in Aries             Apr. 10                Full Moon in Scorpio            Apr. 25
New Moon in Taurus          May 9                   Full Moon in Sagittarius       May 24
New Moon in Gemini          June 8                 Full Moon in Capricorn        June 23
New Moon in Cancer          Jul. 8                   Full Moon in Aquarius          July 22
New Moon in Leo                Aug. 6                 Full Moon in Aquarius          Aug. 20
New Moon in Virgo             Sep. 5                  Full Moon in Pisces              Sep. 19
New Moon in Libra             Oct. 4                   Full Moon in Aries                Oct. 18
New Moon in Scorpio         Nov. 3                   Full Moon in Taurus             Nov. 17
New Moon in Sagittarius    Dec. 2                   Full Moon in Gemini            Dec. 17
The Moon's monthly cycle is divided into two different phases: the New Moon phase and the Full Moon phase. Many use the energy of the Moon and the energy of the astrological sign in which the Moon is consider "in" to charge their candles for success.
In the New Moon phase, the Moon is considered to be "waxing" or growing larger. This is when the sky is dark on the night of the New Moon, but gradually night after night you will see the Moon appear from a sliver on the second night to fully round on or about the 14th night.
In this phase, it is best to do candle spell work for expansion, new projects, and seeking to advance in the matters of love, money and success. The New Moon time is also best to seek promotions, apply for loans, look for new employment opportunities, and revamp or add to your resume.
In the phase called the Full Moon phase, the Moon is said to be "waning", or growing smaller in the sky. You will see the Moon in the night sky go from totally round and full, hence the name "Full Moon" on or about the 15th night, and gradually shrink until you have a dark sky at night on or about the 30th night from the first night you had been counting.
The energy of the Full Moon is best to do candle spell work for release and removal. This would be the time to consider taking time to plan revamping your space and relationships. This time is best spent on reflection and planning to move forward once the Moon becomes new again and for finishing up pending projects that were placed on hold.