Posted by Jacqueline on Oct 11th, 2012 in Moon Phases and Candle Spells | 0 comments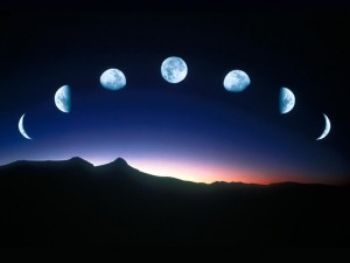 The New Moon in Libra occurs at 7:02 am E.S.T. on Monday, October 15, 2012. This Moon, in the astrological sign of Libra, is considered to be a "Cardinal " Air sign, meaning that the energy is is intellectual, innovative and inventive.
Doing positive energy candle spells at this time for Success, Money and Fast Luck, Libra's New Moon encourages teamwork and joint efforts. This is the time to seek collaboration or assistance. The saying, "together we can achieve" brings new meaning now. This is also a good time to burn "Boss Fix" Candles to make sure that your superiors and management can 'see things your way' in regards to your efforts and the contributions you make to the company. This paves the way for you to consider asking for a promotion or raise in the future. Burning white "Boss Fix" candles, anointed with "Boss Fix" Oil, helps move things forward for you.
This New Moon is also an excellent time for making altar cloths or ceremonial robes, if your belief system supports it. Now is also the time to prepare and light a candle to a specific Deity, angel or Saint for giving thanks for prayers answered or to petition for additional assistance.
Other planetary issues brought forth by this New Moon is that this is an excellent time to take personal action and make bold moves for your success. Take the initiative to make changes for positive energy at home and work. A good 'deep cleaning' of papers on your desk or clutter at home will revive you and give you inspiration for new horizons and goals. Move towards your goals and do not wait for others opinions as their hesitancy will slow down the momentum of this lunation.
The next Full Moon occurs on October 29, 2012.