Posted by Jacqueline on Aug 18th, 2012 in Moon Phases and Candle Spells | 0 comments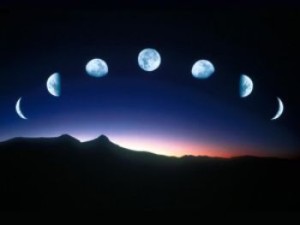 The New Moon in Leo occurs at 10:28 pm E.S.T on Friday, August, 17, 2012. This Moon comes with different afflictions from other planets and you can read more about the astrological connections at www.dellhoroscope.com
The New Moon in the astrological sign of Leo is considered to be under the influence of a "Fixed" Fire Sign, meaning that it is aggressive, unchangeable, constant and creative. New Moon time has been traditionally held as a time to light candles for love, lucky, money and success. It is also a good time to burn blue healing and white blessing or cleansing candles for yourself or others as the positive influences of the Moon is considered to boost the power of your candle spell.
Other influence of this New Moon may bring a burst of new concepts and ideas to those who design – whether it is concrete or conceptual and mental, and could create a flurry of new agreements and contracts for some. This is the time to get out there and really shine if you are seeking scholarships, a new career or job, or if you are ready to ask for a promotion. Dress well, in rich fabrics and jewel tone colors. Use Boss Fix Oil on doorhandles, telephone receivers, computer mouses in the Boss's office and on your hands when shaking hands with your Boss, anyone in HR, or the person who is interviewing you to lay a veil of influence on them to choose you instead of Joe Schmo.
This is also the time to deep clean and re-dress your altar. Is it time to get some luxe fabrics for it? How about polishing those brass candlesticks until they gleam? We are about to go into a season change and bringing some Indian Summer or early Fall colors might be just the thing. Glam up your Money Altar with a square of gold lame` fabric to attract more money.
The next Full Moon lunation will occur on August 31, 2012. When a second Full Moon occurs within a month, the second one is called a "Blue Moon". Read more about Blue Moons here: https://free-candle-spells.com//category/tells-the-history-of-blue-moons-and-their-symbolism/