Posted by Jacqueline on May 25th, 2012 in St. Expedite Fast Luck Candle Spell, St. Expedite/San Expedito | 0 comments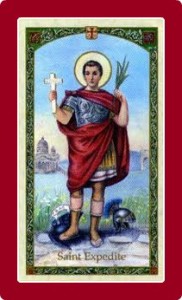 Many people petition the well loved St. Expedite, also known as San Expedito, for when they need quick resolution to a problem, "Fast Luck", or 'things in a hurry'. I have written a few blogs here on Free Candle Spells regarding different ways to petition him. There is a belief that when he gives you what you want, you need to "pay" him with pound cake and red wine. Let me share my latest experience with you about my petitioning Saint Expedite.
Last week, a new family-themed restaurant was being built in our area and there was a call for applicants. Three of my immediate relatives were interested in working at this new place. Two of them are currently employed, one was not. They chose to go together and wait in the hot sun in very long lines outside to fill out applications and hopefully obtain an interview. The day this was to happen was a Thursday. On Wednesday, I wrote a simple petition on a notepad paper, asking Saint Expedite to give my three relatives (I listed each of their names) a job with this corporation. I placed the petition on a small glass plate, cleansed and anointed a candle with St. Expedite Anointing Oil, and lit the candle in front of my statue.
On Thursday, one of the three went on to the first of two interviews, with a "call back" on the next day, Friday. They went to it and was told that they would contact them after they did a background check. That told me right there that if they were going to pay for a background check, he was in the running. The candle burned through the weekend, ending on Monday sometime. Mid-day Monday, the relative received a call back that he had been accepted for employment. I left the candle alone until I went to the store. I bought his obligatory Sara Lee pound cake and gave it to him with a nice glass of red merlot wine. I also wrote "Thank You" in red ink across my petition and lit a red candle. Here is the photo for you to see how to "pay him what he wants" when you receive a blessing from Saint Expedite: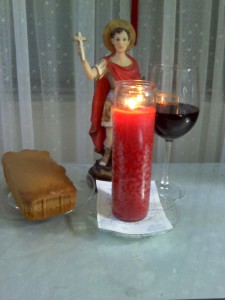 Many thanks Saint Expedee!