Posted by Jacqueline on May 9th, 2012 in Free Candle Spells Marketplace | 0 comments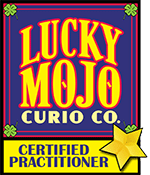 Lucky 13 Clover Spiritual Supply is one of your Northern California suppliers of Lucky Mojo Curio Co. products. Located in Elk Grove, (near Sacramento), we carry a great number of Lucky Mojo Anointing Oils such as Fast Luck, Crown of Success, Pay Me, Boss Fix and more!
Call 916 * 205 * 9490 for more information!