Posted by Jacqueline on Mar 28th, 2012 in St. Expedite Fast Luck Candle Spell | 0 comments
The Saint Expedite Red Fast Luck in a Hurry Candle is designed to assist in bringing in an about face to your luck. It is an old Louisiana tradition to light a candle to St. Expedite (also called "Saint Expedee") on Wednesdays to ask for anything that you need right away. The mighty prayer printed on our heavy duty label with its' old World charm, implores St. Expedite to remedy the streak of misfortune that has occurred. Tradition tells us to light his candle on Wednesdays, his feast days, and offer a glass of cool water and a flower such as a red carnation or rose.
The St. Expedite candle kit comes with complete instructions and a 1/2 ounce bottle of Mojo Moon Fast Luck Oil, reputedly used on the candle to bring on "good things in a hurry".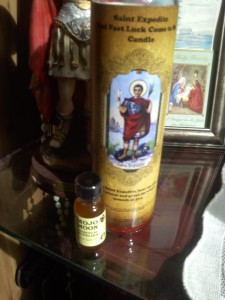 This candle kit can be shipped for $13.00 (plus CA tax and $12.00 S & H). Click on this button below to order the single candle St. Expedite Candle Kit:
Be Prepared! You never know when you need these beautiful candles dedicated to this favorite Saint of New Orleans. Triple up the order and have additional candles when you need them immediately and order three St. Expedite Red Fast Luck in a Hurry Candles and 1 bottle of Mojo Moon Fast Luck Oil for $29.00 (plus CA tax and $12.00 S & H)