Posted by Jacqueline on May 28th, 2011 in Lucky 13 Clover Spiritual Supply | Comments Off

on Free Candle Spells Marketplace | 48 Lucky Mojo Curio Co. Oils at www.Lucky13Clover.com!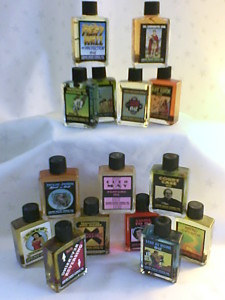 Lucky 13 Clover is proud to announce that it is expanding its line of Lucky Mojo Curio Co. oils as requested by you – the  customer! Lucky Mojo blends natural oils and essences with herbs, roots and spices in the bottle for an effective spiritual oil for your personal needs.
Here is the list of the Lucky Mojo Oils we have in stock and a brief description on what they are used for. You can order any of these at www.lucky13clover.com
LOVE OILS
Follow Me Boy – makes a man follow you around like a hungry dog after a T-Bone Steak
Follow Me Girl – make a girl chase you down like a cake at a kid's birthday party
Come to Me – alluring scent draws them to you like honey to the bees
Lavender Love – a delightful same sex fragrance to draw a lover to you
Fire of Love – when it is time to "heat things up" use a drop of this on your neck
Return to Me – burn this on candles after a fight and they will come running back
Kiss Me Now – a little of this at the base of the spine gets you ready to roll!
Stay at Home – burn this on a white candle when you need them to stop running out the door
Cleo May – for ladies who want high rollaz and big money men to keep they happy
Nature Oil – to enhance a man's sexual energy and nature
Chango Macho – an oil to enhance the virility powers of Chango
SUCCESS OILS
Road Opener – use when you feel that your paths are blocked and you are stuck.
Crown of Success – for when you want to succeed in your career or education
King Solomon – to enhance wisdom and logic in making decisions in all matters
CAREER AND WORK OILS
Boss Fix– to "persuade" the Boss to look favorably on your work and achievements
Steady Work – to keep a good job from going away and plenty of offers coming in
ATTRACTION & LUCK OILS
Good Luck – an all purpose oil to bring in Good Luck in all matters
Van Van – old New Orleans recipe for general cleansing and Attraction
Fast Luck – a tiny but mighty bottle of bringing in luck fast when you really need it!
Lodestone – the essence of the magnetic qualities of the Lodestone in liquid form
MONEY OILS
Prosperity – to bring in and hold prosperity to any home or person
Pay Me – use on a candle when someone has not paid you as promised
Wealthy Way – burn this on white candles to enhance the "good life"
Money Drawing – a traditional oil that attracts money from all sources
PROTECTION OILS
Cast Off Evil – use when you feel like something evil is around
Hot Foot – sprinkle in shoes of someone that you want to leave forever
Reversing– to reverse a negative situation back to its original point
Uncrossing – burn in white candles when you feel "crossed up"
Run, Devil, Run – use to send the Devil packing and to "hit the road"
Fiery Wall of Protection – use when you are under attack!
Peaceful Home– use to bring tranquility to your house
SPIRITUAL OILS
St. Expedite – use on red candles to petition for quick results
Dragon's Blood – use to seal in luck, protection and agreements
Five Finger Grass – for success in working with your hands
Algiers – a New Orleans traditional fast luck oil
John the Conqueror – increase personal power and nature
Dixie John – use when your love life, luck and family needs help
San Simeon – only those who know about San Simeon will purchase this
Controlling – use to gain power over another's actions and mind
Commanding – use on white candle to bring others under your rule
Compelling – use when you need to make another own up to a promise
Spirit Guide – use on white candles to bring good spirits around you
Healing – to ease sorrow, physical pain and and heartache
CROSSING & JINXING OILS
Jinx – allegedly helps a person put a jinx on another
Crossing – us on your enemy to "cross them up"
Revenge – to gain Justice when you were wronged