Posted by Jacqueline on Dec 2nd, 2010 in Annual Banishing Ritual New Years' Eve | 0 comments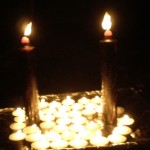 It is time again to prepare for the 4th Annual Banishing Negativity Burn on New Year's Eve night, Dec. 31st.
This ritual, performed each year at this time, is a opportunity to burn away negative influences and events that has happened in the past year, so that you start the year 2011 fresh and renewed in Spirit. This is performed in an outdoor fire pit and fragrance sacred herbs and essences are added to the pyre, using frankincense, myrrh and white sage. These are mixed into the petition papers, creating a burnt offering that wafts to the Angels and Saints in Heaven so they can hear our pleas of negative release.
There are two ways you can participate:
1. ) Order a tealight petition candle for $1.00 each (an excellent idea to burn one for each member of the family!)
2. ) Have a custom made poppet/doll made and named for an individual who is causing you grief and torment and burn their negative influences out of your life. Each poppet/doll is $25.00
Each participant will get a file with photos of their poppet/doll construction and the burn ritual.
Read more about the Banishing Negativity Burn by clicking on the grey box at the top of this blog post