Posted by Jacqueline on Dec 13th, 2009 in Moon Phases and Candle Spells | 0 comments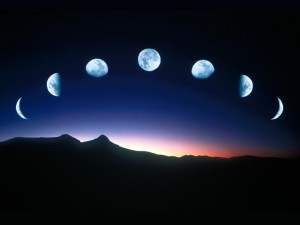 The New Moon in Sagittarius will occur at 7:02 am E.S.T. on Wednesday, December 16, 2009. The energy of Sagittarius is considered to be a "Mutable" fire sign. It is creative and aggressive and fluctuates between optimism and pessimism. This New Moon bodes that the holidays are bringing optimism, hope and inspiration. Use this energy to advance your fondest wishes and dreams!
The New Moon is the perfect time for increase and positive outcomes, so let's hear it for more money, more love and more happiness!
This is the time for increase, expansion, accomplishments and self-improvement. If you are seeking a 'new you', burn red candles with "Look Me Over", "Fast Luck" or "Crown of Success" Spiritual Condition and Anointing Oils. If it is love you are seeking, burn pink candles (not read, which means a wham-bam-thank-you-ma'am) with "Look Me Over", "Cleo May", "Kiss Me Now!" or any other love drawing oils on your candles. All these oils can be ordered at www.lucky13clover.com
The candle for Sagittarius is blue and the planet which rules here is Jupiter. If your zodiac sign is Sagittarius, you may want to anoint it with Jupiter oil or add powdered Cardamom, Chervil, Dandelion, Hyssop, Sandalwood and Sage to your candle top to enhance the powers of the Sagittarius energy.
The next Full Moon occurs on Thursday, December 31, 2009. It is considered a "Blue Moon"