Posted by Jacqueline on Dec 6th, 2009 in Altars, Various Saints Candle Spells | 0 comments

This upcoming weekend will be the feast day for Our Lady of Guadalupe, an avatar of the Virgen Mary that appeared to Juan Diego, a poor countryman of Tepayac, who told him of her wish to have a Shrine built when she visited him. Juan Diego petitioned the Bishop, who wanted proof and the Virgen instructed him to gather roses in his tilma, a blanket-type covering, to take to the Bishop. When he presented the roses to the Bishop, her image was imprinted on the tilma, thus convincing the construction to begin and making the tilma a Holy Relic.  The tilma was framed and is hanging in the Cathedral in Mexico City. You can read more about the legend by clicking here.
On this day, many begin to decorate their Christmas trees in the United States and attend Mass with the Mariachi band playing music to the Virgen and later the family gathers at home for warm foods such as tamales, pozole and atole. Some bring the scarlet poinsettia plants to construct a household altar, as the poinsettia plant is native to Mexico. Many will light vigil candles such as this one, to offer petitions to Her.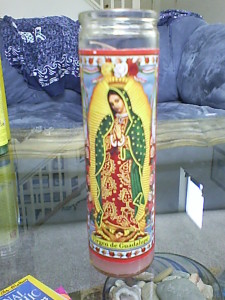 The Virgen of Guadalupe is revered everywhere and Her image can be found on shirts, jewelry and many have her image as a tatoo to show devotion and asking for her protection. Here is one that I found on the Internet: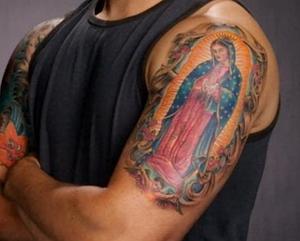 Some people believe that if you paint her image on the building where you have your business, that you will not be bothered with break-ins and graffiti. Ironically, it actually is true, as I have read an article that observations has shown that Her image reduces crime in the area. Here is a shop owner who wants a peaceful neighborhood.

Whatever your intensity of devotion to the Virgen of Guadalupe, you can agree that she is an influential image throughout the Southwest and West. Many of these statues at this market will be relocating in the living rooms of many Latino families very soon.