Posted by Jacqueline on Nov 13th, 2009 in Moon Phases and Candle Spells | 0 comments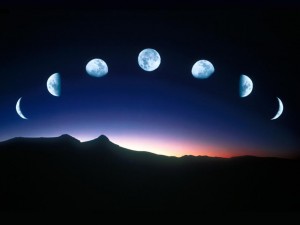 The New Moon in Scorpio occurs on Monday, November 16, 2009 at 2:15 p.m. E.S.T. This lunation in the "Fixed" Water sign of Scorpio, means that it is emotional, unchangeable and stable. The energy of this New Moon is about transformation, metamorphosis and change. What is it about yourself or your surroundings that you want to change?
This is the time to consider finite changes and adjustments to candle burning spells for thwarting your enemy in THEIR plans to get you. This is a very secretive time where you do not want to make any hasty plans for your candle spell. Remember the most glorious battles were calculated for months prior to the actual event so that they could cover any unforeseen situations.
Since Scorpio is ruled by the planet Pluto, burning purple candles for psychic enhancement would be optimum at this time. Make sure you clean your candles accordingly and to put an extra 'oomph' to your candle burning, make sure you add "Psychic Vision" Anointing Condition Spiritual Oil or "Oil of Pluto" to your candle.


The next Full Moon will occur on December 2, 2009