Posted by Jacqueline on Nov 10th, 2009 in Quick and Easy Candle Spells | Comments Off

on Quick Candle Spells | Quick Fast Love Candle Spell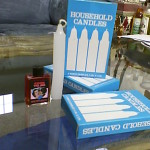 Here is a quick candle spell for love. – J.
INGREDIENTS:
5  – red 6 inch free standing candles or white Household Candles (see photo)
1 White Ceramic Dinner Plate
1 Red Rose (fresh)
1 bottle "Come to Me", "Fire of Love", "Kiss Me Now", or "Follow Me Boy" Condition and Anointing Oil
1 piece of white paper with lovers name and birth date written on it.
Take white paper and write lovers (or desired person) name on it with birth date (if known). Lay on white plate. Cover whole paper with rose petals plucked off of fresh rose. Anoint the 5 candles with any of the above mentioned oils; set in circle on top of petals, paper and on plate.
Light candles and let them burn down, about an hour. Then take plate to bathroom and in a freshly cleaned bathtub, drop all rose petals into running warm water and add 9 drops of the oil. Soak in the bath until water is cool. Get out; dry yourself and dress in clean clothes.
Take all rose petals, plate, paper and candles outside and light petition paper on fire with a lighter (NOT a MATCH). When it is finsihed burning, place in brown paper bag and take to nearest river or swiftly moving creek. Place in water and leave without looking back.