Posted by Jacqueline on Nov 5th, 2009 in Honey Jar Spells for Love | 0 comments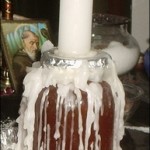 I am frequently asked on the telephone what additives to put in a honey jar to sweeten someone for love and romance in relationships. Most of you do not have access to 'exotic' herb stores where you will find obscure powders and roots, so I have combined a list of herbs, spices and that you can pick up from your local neighborhood store. You would be surprised how many we used in everyday cooking and how we 'enchant' the ones we love every time we open the oven door!
Here is a list of some common herbs and spices that you can place in your Honey Jar Spell:
Rosemary – for empowering the woman in he relationship; upper hand in the family decisions.
Rose Petals – romantic love and sexual attractiveness; make the heart of the intended soften towards them.
Red Pepper – just a little will "heat things up" passionately.
Cinnamon – traditional love drawing spice; gives a 'warm radiance" to the feelings you receive from intended.
Ginger – another fiery root that "heats things up" between a couple.
Catnip – the herb felines love the most; make a woman "intoxicating" to a man.
Sage – Gives a woman strength to conqueror a man.
Cherry Bark – said to get you "what you want" in love and physical relationships.
Cardamom – reputed to bring good luck in love affairs and those intimate times.
Apple – used in particular love spell as a receptacle to hold other ingredients for couples to get along with each other
Vanilla – when placed in sugar, it encourages all that eat the sugar to 'be sweet'.
Tea – yes, the camellia thea leaf we love to drink! A special brew with a woman's soiled underwear keeps her man around.
Orange –  the fruit of the Yoruba goddess of love and sexuality, dried peel can go into the honey jar to get married.
Bay Leaves – promotes a long, happy marriage.
Caraway – said to keep a partner faithful.
Dill – reputed to restore sexual vigor and desire and break love jinxes.
Hibiscus – use to decorate around the honey jar as an offering to the Chuparosa Hummingbird of Love.
Lemon Grass -is said to heighten romance and sexual pleasure.
Licorice – can be used in a mojo bag to control you love.
Clove – use to draw someone closer
Marjoram –  use for peace and happiness in the family