Posted by Jacqueline on May 13th, 2009 in Rants and Raves | Comments Off

on Free Candle Spells|What www.free-candle-spells.com is About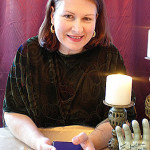 Greetings Readers!
I want to touch base on the purpose of the www.free-candle-spells.com blog. This blog is dedicated to sharing different candle burning techniques and offering successful spells to share with one another. This blog is not to give a consultation to any particular problem such as second guessing another spiritual workers intentions, spells or trying to obtain a free consultation. That is what consultations are all about.
This blog is to ask why your candle burned in a weird shape or why the candle glass blackened and cracked. It is a place that you can ask if you should use John the Conqueror, Queen Elizabeth Root, Wasp's Nests or any other botanical, mineral or zoological to your spell work. The Free Candle Spells blog is for love candle spells, money candle spells, success candle spells, how to keep someone quiet, court case candle spells, and a few different variations on honey jar candle spells.
Lastly, the intention of this blog is to also promote other readers, spiritual workers and healers in your area by their advertising on the Free Candle Spells site. There are a few places left in the blog available for others to advertise their gifts. Please contact me through the "Ask a Question" page regarding advertising rates.
~~~~~~~~~~~~~~~~~~~~~~~~~~~~~~~~~~~~~~~~~~~~~~~~~~~~~~~~~~~~~~~~~~~~~~~~~~


Visit www.tarotbyjacqueline.com for a confidential consultation and tarot reading.