Posted by Jacqueline on Mar 24th, 2009 in Moon Phases and Candle Spells | 1 comment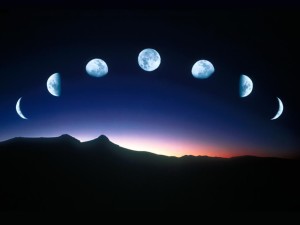 The New Moon in Aries arrive in the eastern sky on March 26th at 11:07 E.S.T. Aries is a 'cardinal' sign, meaning it is energetic, spirited, creative and with invigorating innovation.  This really is the New Moon to get things started with a flash!
Time to finish cleaning up the altar and really pulling out all the bright reds, vibrant pinks, and touches of golds in your altar cloths. Polish up those brass candlesticks and luxe your love altar UP! This is the time to burn love drawing candles with enthusiasm and is very, VERY favorable for making changes and bringing in new beginnings! If you want LOVE, now is the TIME! Make sure to add a red rose and a few sinful chocolates to round out the passion altar.
Aries is also an excellent time to activate a saving budget and money making ideas. The power of Mars will make sure things go through for you. Keep green Money Drawing/Prosperity/Wealthy Way candles fo the next 21 days CONTINUIOUSLY if you are a serious contender in the money department this year!
Remember to open your window and shout it out, shout it proud "Prosperity is Mine in 2009!"
~~~~~~~~~~~~~~~~~~~~~~~~~~~~~~~~~~~~~~~~~~~~~~~~~~~~~~~~~~
Order your Lucky Mojo"Follow Me Boy" and "Follow Me Girl" Condition Anointing Oils at www.lucky13clover.com
~~~~~~~~~~~~~~~~~~~~~~~~~~~~~~~~~~~~~~~~~~~~~~~~~~~~~~~~~~~~~~~~~~~~~~~~~