Posted by Jacqueline on Mar 3rd, 2009 in Special Announcements | 0 comments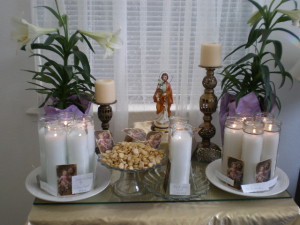 We are in the process of making plans for our Saint Joseph's Feast Day Altar and we wanted to give you a 'heads up' on the festivities. Like last year, all profits from the candles being purchased to be placed on the Altar will go to the local charity that feeds the homeless here in Sacramento, CA.
St. Joseph, also known as San Jose in the Latino community, was the stepfather of Jesus, and in this position, head of the household. He is petitioned by fathers and single mothers who have to adopt the roles of mother and father to their children. Saint Joseph is venerated to bring strength and knowledge in all decisions regarding the caring of the household finances and of work. He is also used to sell a house, as his image in the form of a small statue, has been known to help the owner of a home sell his house.
If you would like to be a part of the celebration, or if you need to petition Saint Joseph (San Jose) for strength as the head of your household, you may purchase a 7-day white glass candle for our St. Joseph's Altar. In addition to the candle being burnt in your name, you will receive three fava beans and a prayer card of St. Joseph, with complete instructions on how to use the fava beans to bring in good luck.
Order your white 7 -day Glass Candle and Gift here  :
~~~~~~~~~~~~~~~~~~~~~~~~~~~~~~~~~~~~~~~~~~~~~~~~~~~~~~~~~~~~~~~~~~~~~~~~~~~