Posted by Jacqueline on Feb 26th, 2008 in St. Expedite Fast Luck Candle Spell, Various Saints Candle Spells | 0 comments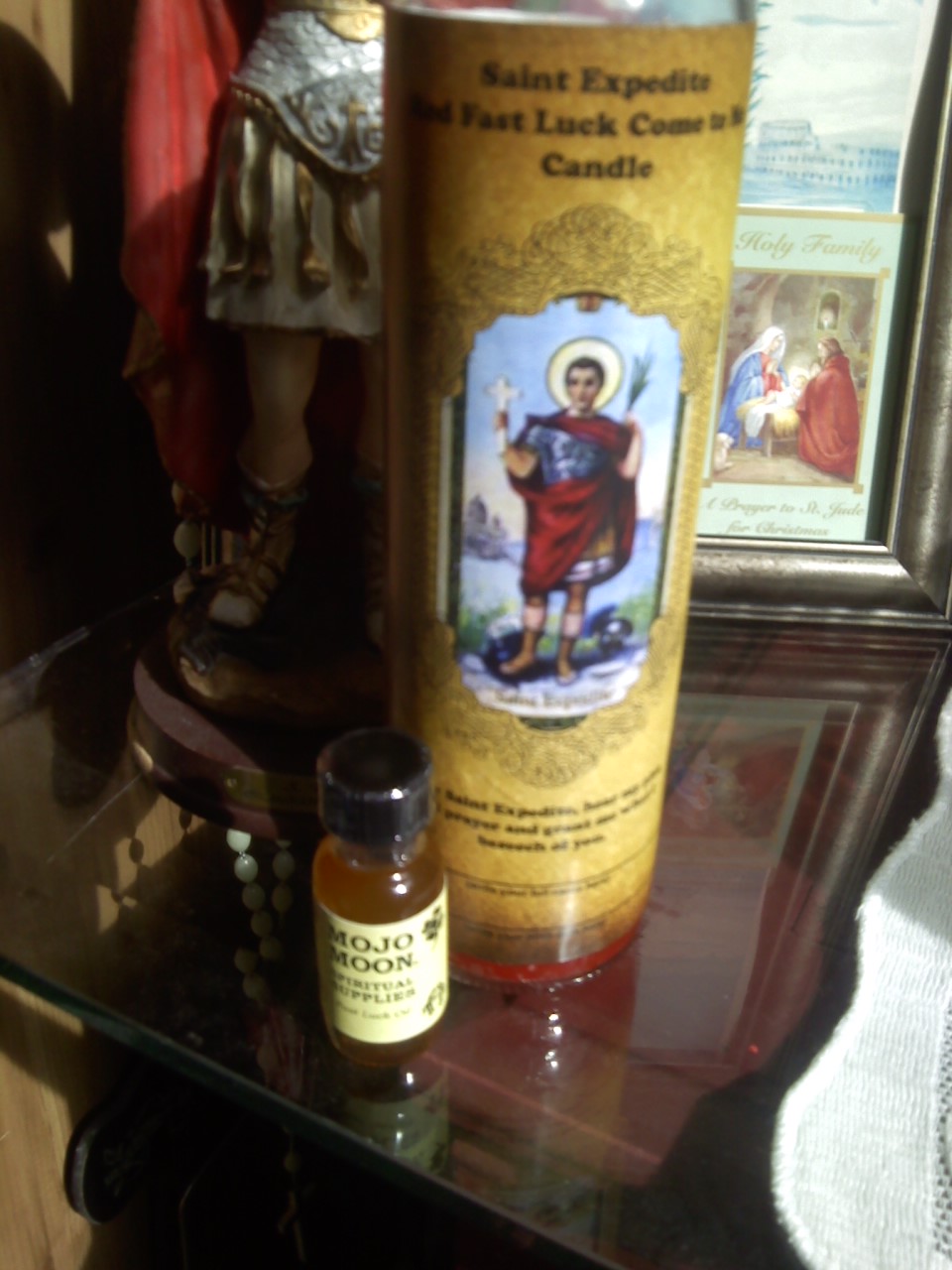 Ingredients 1 Red Glass 7-day Novena Candle 1 Bottle "Fast Luck" Oil 1 Piece of White Paper (preferably parchment)
After your petition or amount of money is granted:
1 glass of Red Wine (other variations state White Rum) 1 generous slice of Sara Lee Pound Cake (variations include 5 slices of pound cake and not only the Sara Lee brand, but pound cake in general)
Saint Expedite holds a place in the hearts of many hoodoo, conjure, root workers and residents of New Orleans. Because he is so well loved, I am dedicating a page to him and his works.
Clean your red candle in the traditional manner of using lemon juice or rubbing alcohol on the glass outside and the wax top inside of the candle. Set to let dry. Write your petition on the paper, stating a certain amount and the specific use for it, such as "I need $1000.00 to pay the homeowners insurance on my home that is due August 10th." Anoint your candle with "Fast Luck" oil by applying a few drops into the top of the wax and circling the oil in a counter-clockwise motion while you pray to St. expedite to hear your petition for the amount written on the paper. Set glass novena candle on top of your petition paper which is in a small saucer or bowl to catch wax drips. Place a small glass of water next to your candle. St an image of St. Expedite * next to your glass of water. Light the candle while speaking to Saint Expedite, promising him that you will "pay" him with pound cake and red wine if he comes through for you.
The Legend of Saint Expedite
Legend has it that the Chapel of Our Lady of Guadalupe Catholic Church in New Orleans was the recipient of statuary that was ordered from Europe. All the crates were marked with each Saints' name including one crate that puzzled the nuns who received the shipment. Some said that a cadaver was contained inside; some say it was a Roman centurion soldier. Both versions of this legend has it that the word "EXPEDITE" or "EXPIDITO" was stenciled on the box. Here is where his connection with candle work for procrastinators and those who need money in a hurry comes in. Expedite is seen with his foot on the neck of a crow, which has a ribbon in his mouth with the word "CRAS" lettered on it. In Latin, the language spoken by the Romans at the time, the word "CRAS" means "tomorrow". In addition, Expedite is holding a cross up in the air with his right hand. The word "HODIE" is on the crosspiece. The word "HODIE" is Roman for "today". Hoodoo practitioners and Conjurers burn red candles to St. Expedite on Wednesdays, the day that was set aside for him. Wednesday is also the day for the messenger Mercury, the winged Roman God of Communication, and for the planet that shares his name. St. Expedite's feast day is April 19th, however, venture into your local Catholic book store and the clerk at the counter will tell you that he is ' not a real saint', but those doing 'occult work' will worship him. Ironically, in that same store I found 8 X 10 Mexican chromographs of him in the same box with the Virgin of Guadalupe and other popular Catholic saints. St. Expedite is just as particular about working with a worker as they are about working with him. Some hoodoo practitioners swear by him, others say that St. Expedite doesn't work for them. One thing for sure, you must be specific about what you want him to do and you must pay him his due when petition is granted; otherwise, he will take away in kind what he brought to you and it is rumored sometimes more!
For a very long time, I had reservations about St. Expedite, since I too, believed that he was not a 'real 'saint. However, one day I brought his image home and framed it, but not quite sure what to do with the framed picture. The first time I petitioned St. Expedite, I needed some cash flow coming it so I could escort my young grandson on the plane home to my daughter in Washington state. Britain had been visiting his two Grandmothers (of which I am one) in California and it was time to return to school. I was skeptical, but time was running out for me and I had to make a decision. So one morning, as I was rushing out the door to work, I lit the red candle (uncleaned and without oil, mind you), asking for $300.00 so I can get my grandson home. I rushed off to work and later returned in the afternoon to a voice message from his paternal grandmother, saying she was going to fly him home as she wanted to see her son, Britain's father. Boy, was I steamed, since I wanted to be the one to fly up to see my daughter, Britain's mother. I went outside to sit and fuss in the garden. All of a sudden, I came to the realization that I had said that I needed the money to get my grandson home. I didn't say that I needed the money for me to fly my grandson home. The money was provided by another person and that person was the one who got the privilege to fly Britain home. So, I jumped in the car and headed for the grocery store for the cake and wine that is traditional to give to St. Expedite.