Posted by Jacqueline on Apr 27th, 2009 in Oricha/Orisha/Orixa Candle Spells, Special Announcements, Various Saints Candle Spells | 0 comments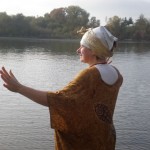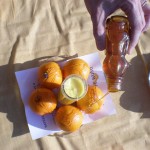 It is time again to make my quarterly offering ot the Goddess Ochun at the River. Offerings to her gives her sustenance and are in gratitude and petition for the good, sweet  things that make life worth living that have come and things to come.
Ochun is the Yoruba Goddess of Love, Money, Sexuality, Sensuality, Gold and all the sweet things in life. Her day of the week is Friday and since her number is 5, the first Friday in May (the 5th month) seemed only fitting.
If you have a need for love and money to come into your life, or if these have come because of your devotion to her, you may offer her a candle or a complete offering plate to her.
For the Offering Plate, which includes ceramic plate with your petition on it, as seen in the center photo, the cost or derecho is $25.00 (plus tax). A photo of your offering will be sent to you, as well as other private snapshots of the event.
For a smaller devotion, offer your petition to Ochun with a Tealight Candle for $1.00 (plus tax). These are seen in the center of the photo on the right side.
Orders have closed for this ceremony. Thank you.